WATERSONG SUNSET VILLA
DAVENPORT, Florida
About the villa
Located on the prestigious gated community of Watersong in Davenport, our modern, spacious 5 bedroom / 4.5 bathroom home easily accommodates 10 people.
Watersong Sunset Villa is fully equipped and furnished to a very high standard, offering everything you need for the perfect family getaway.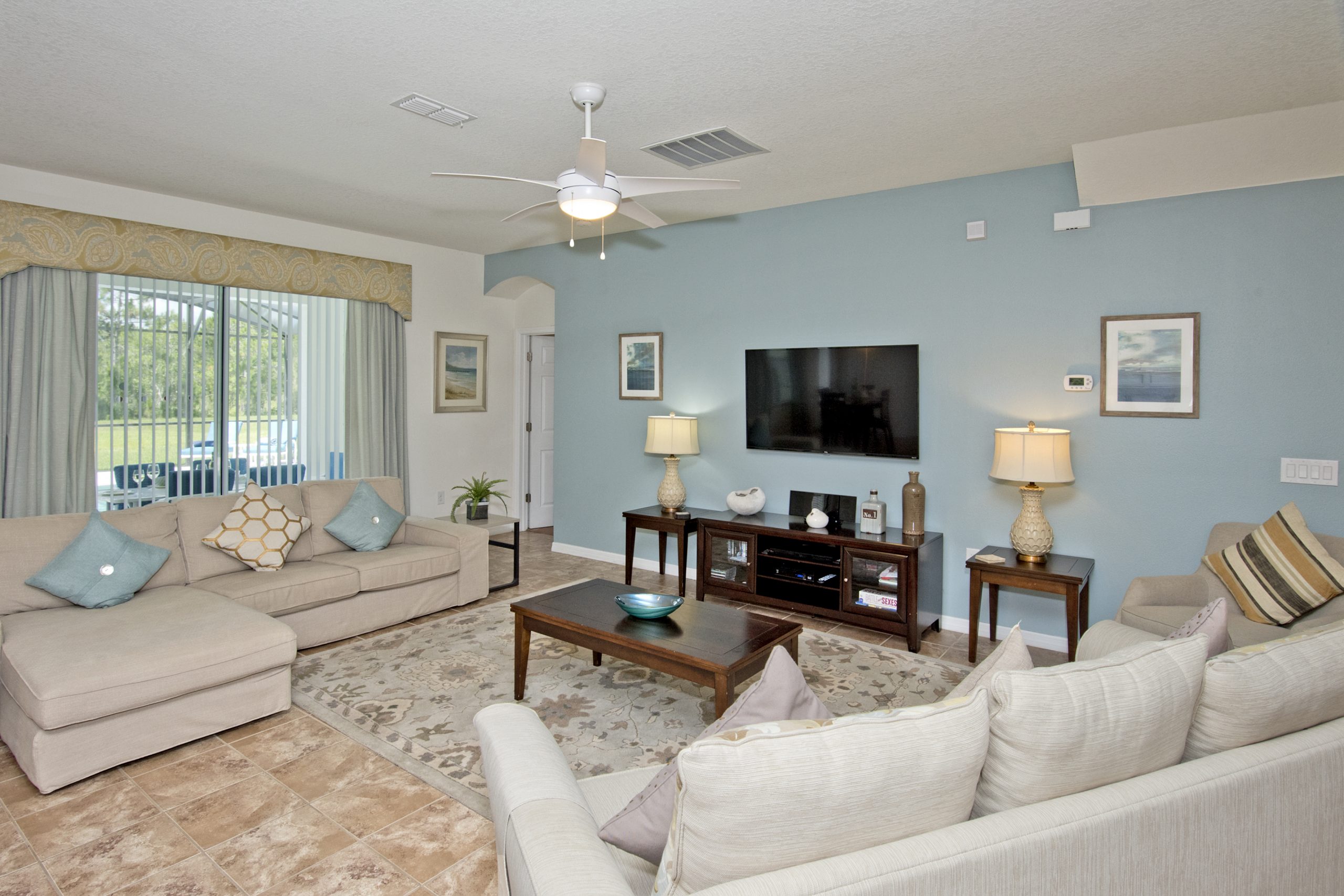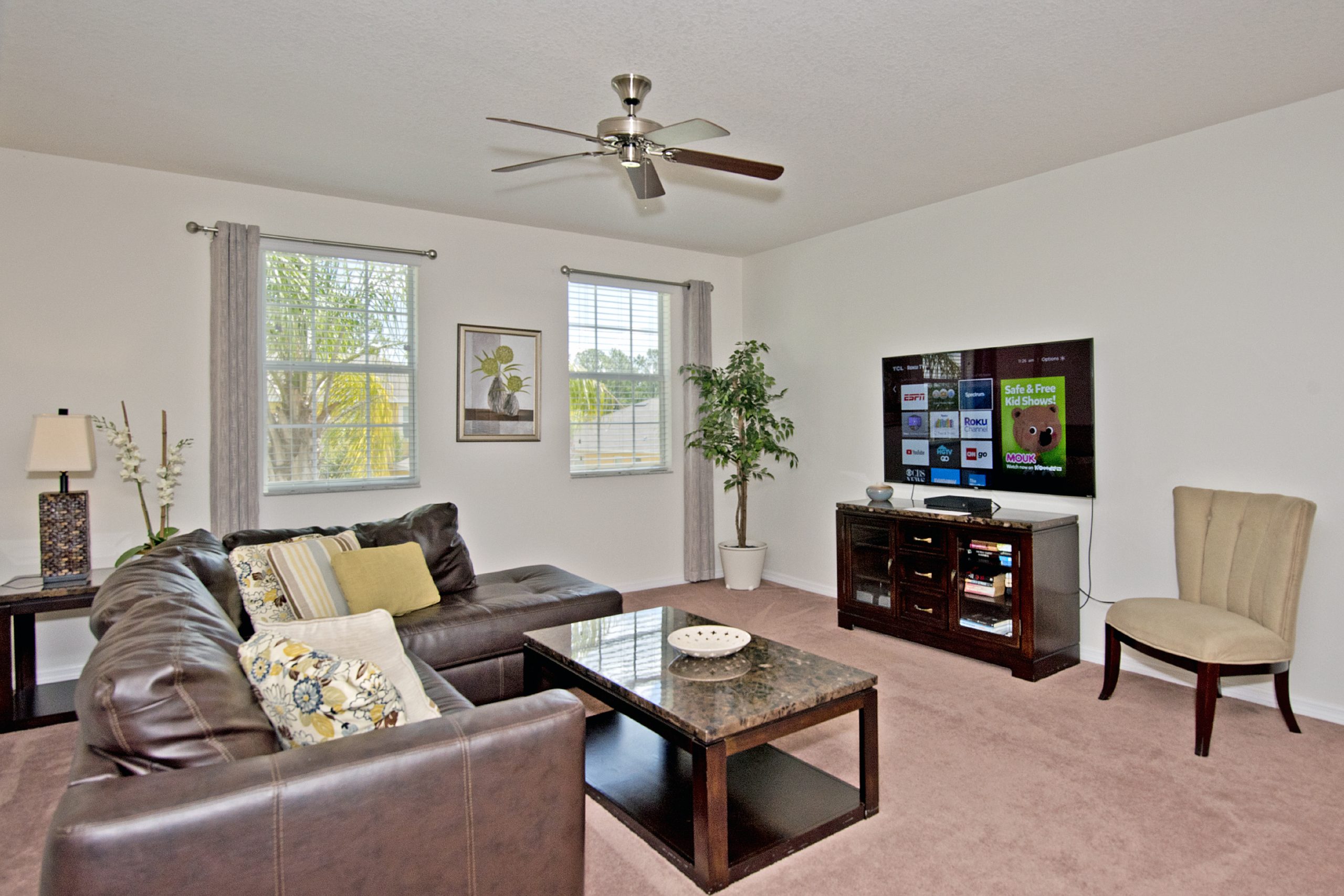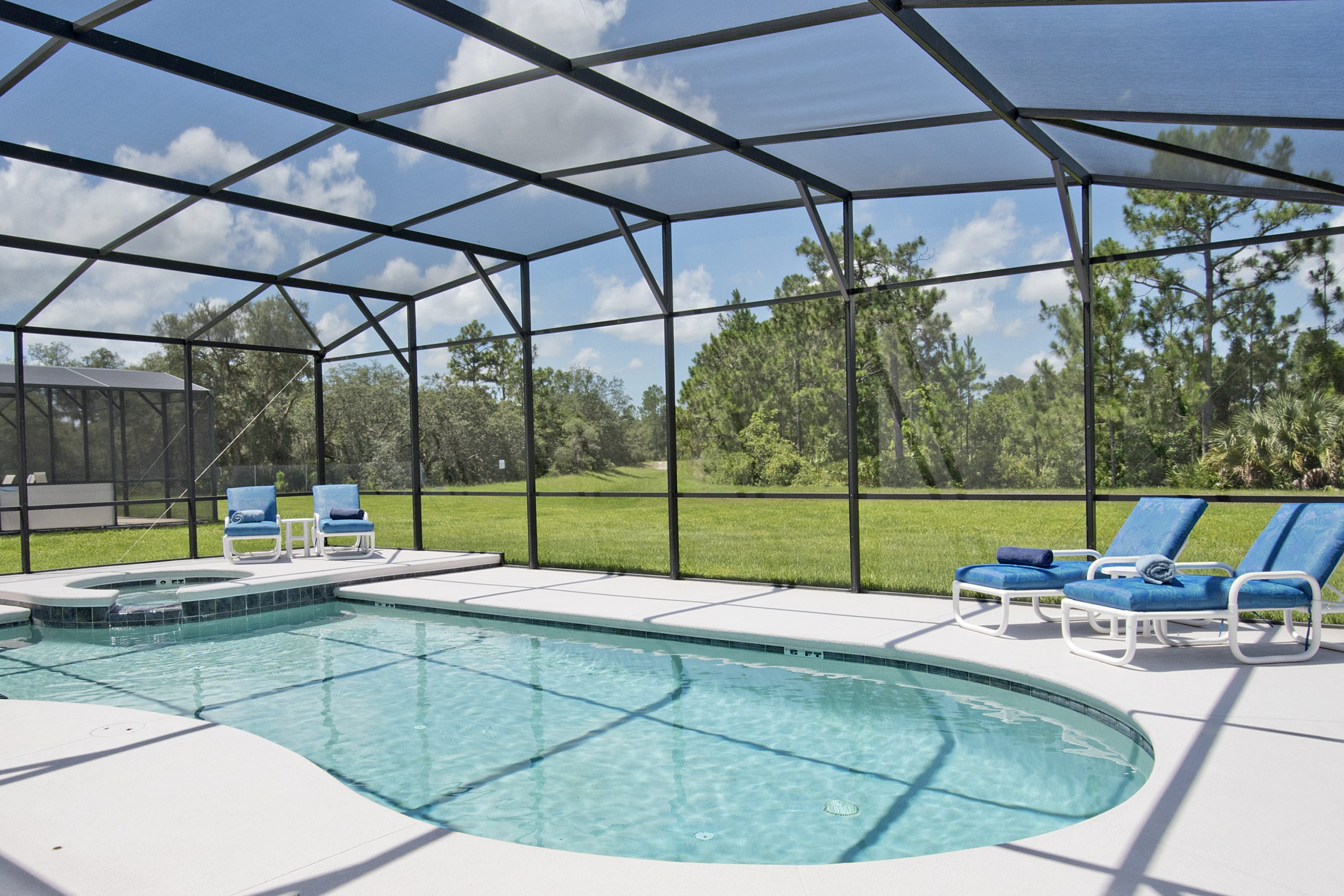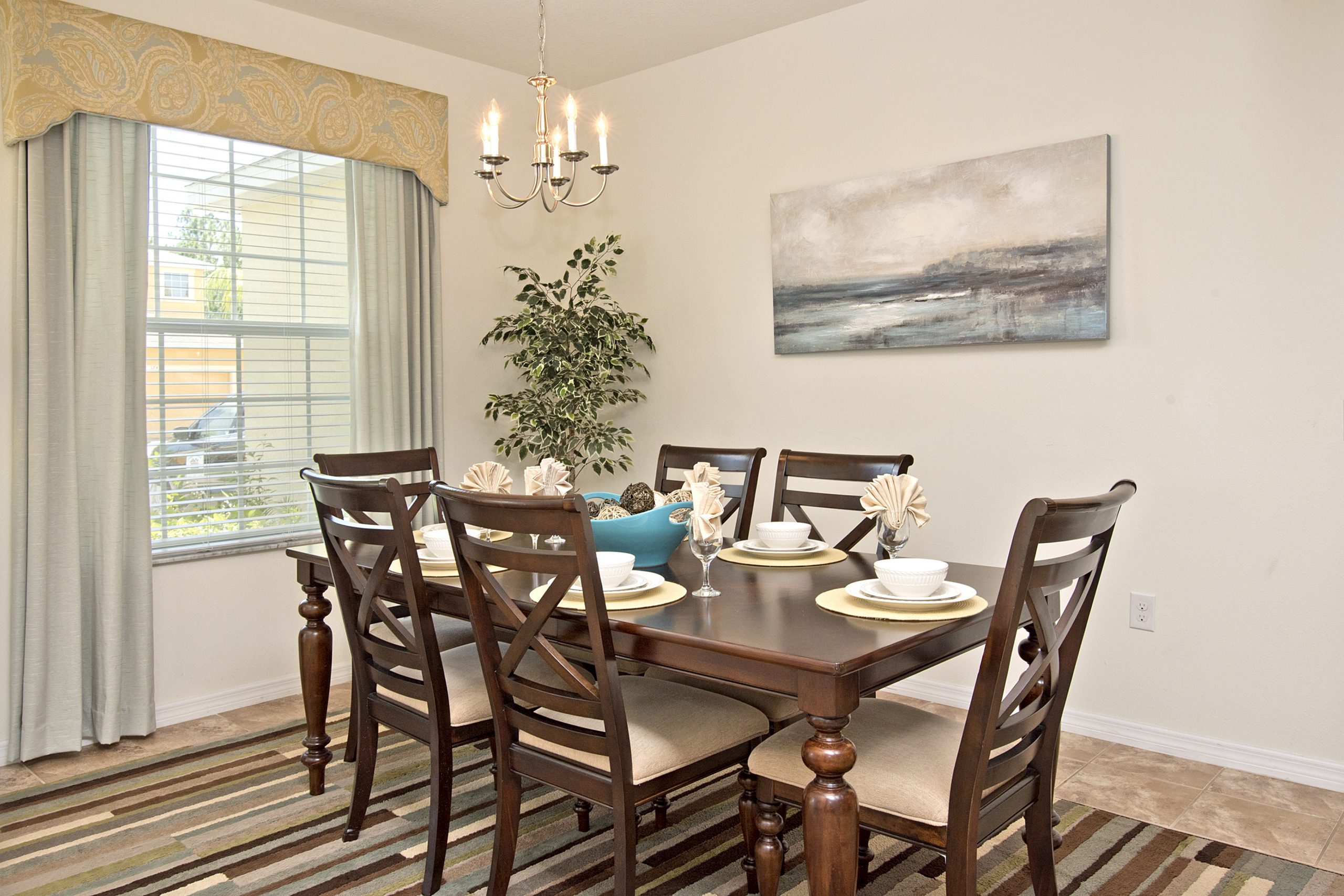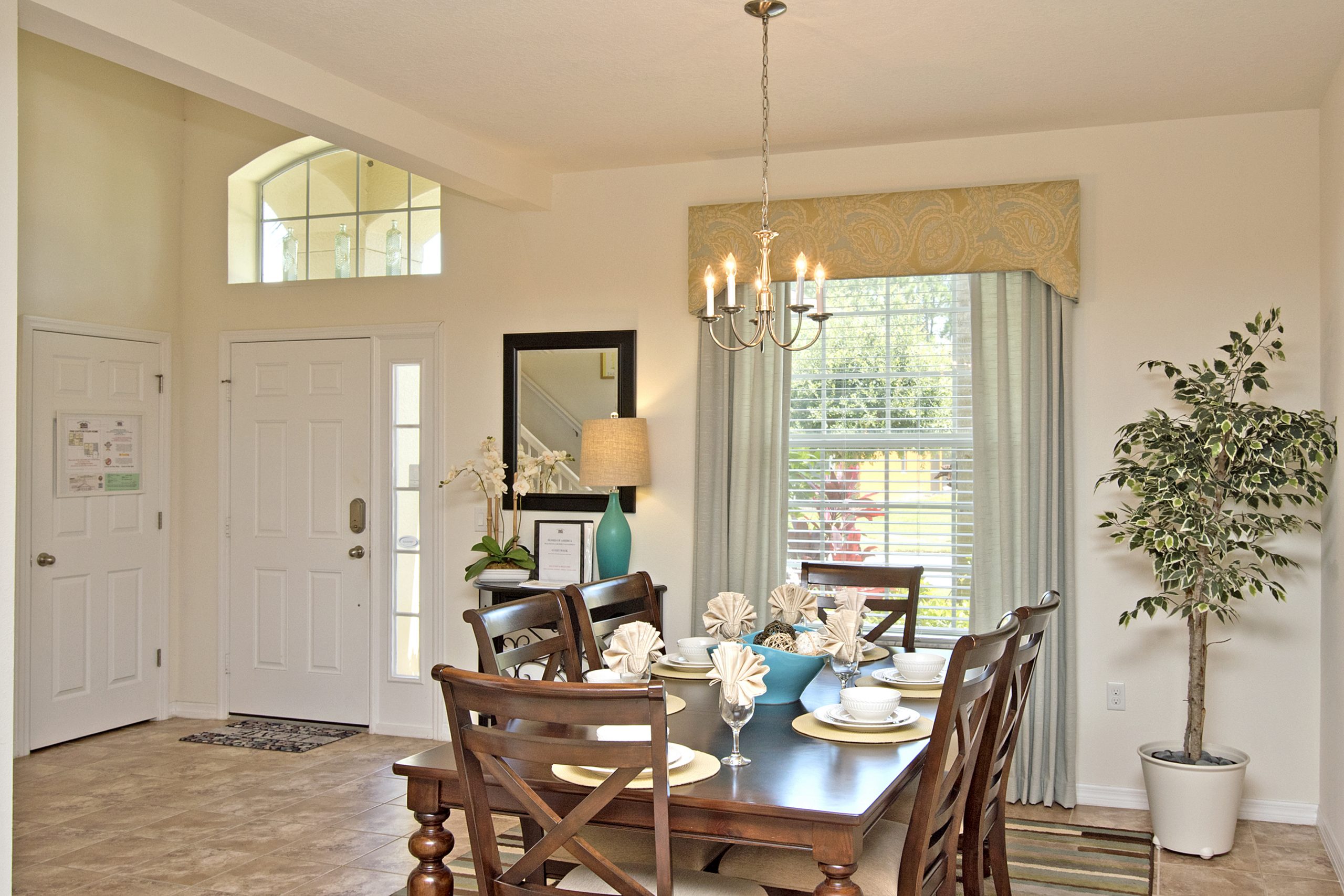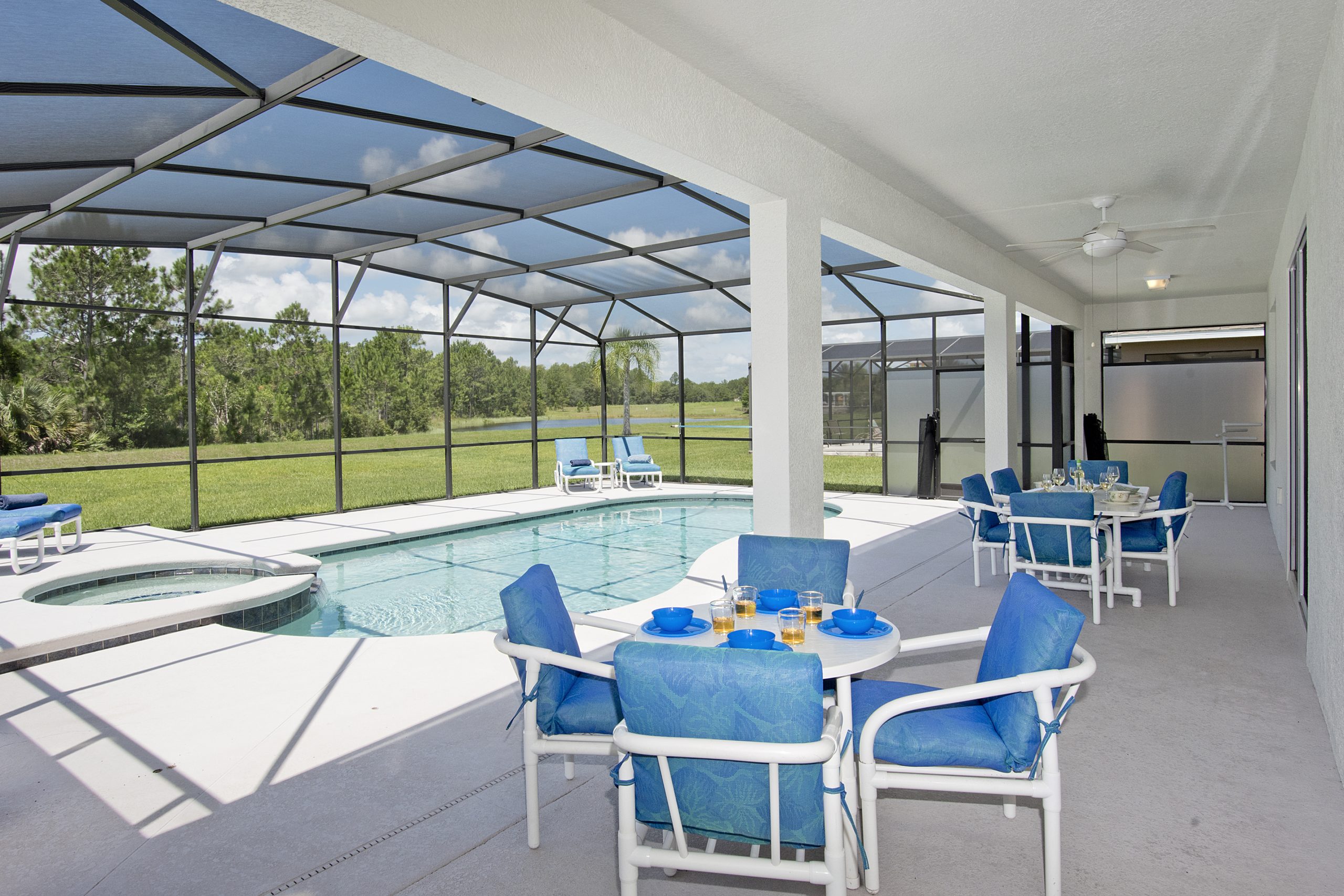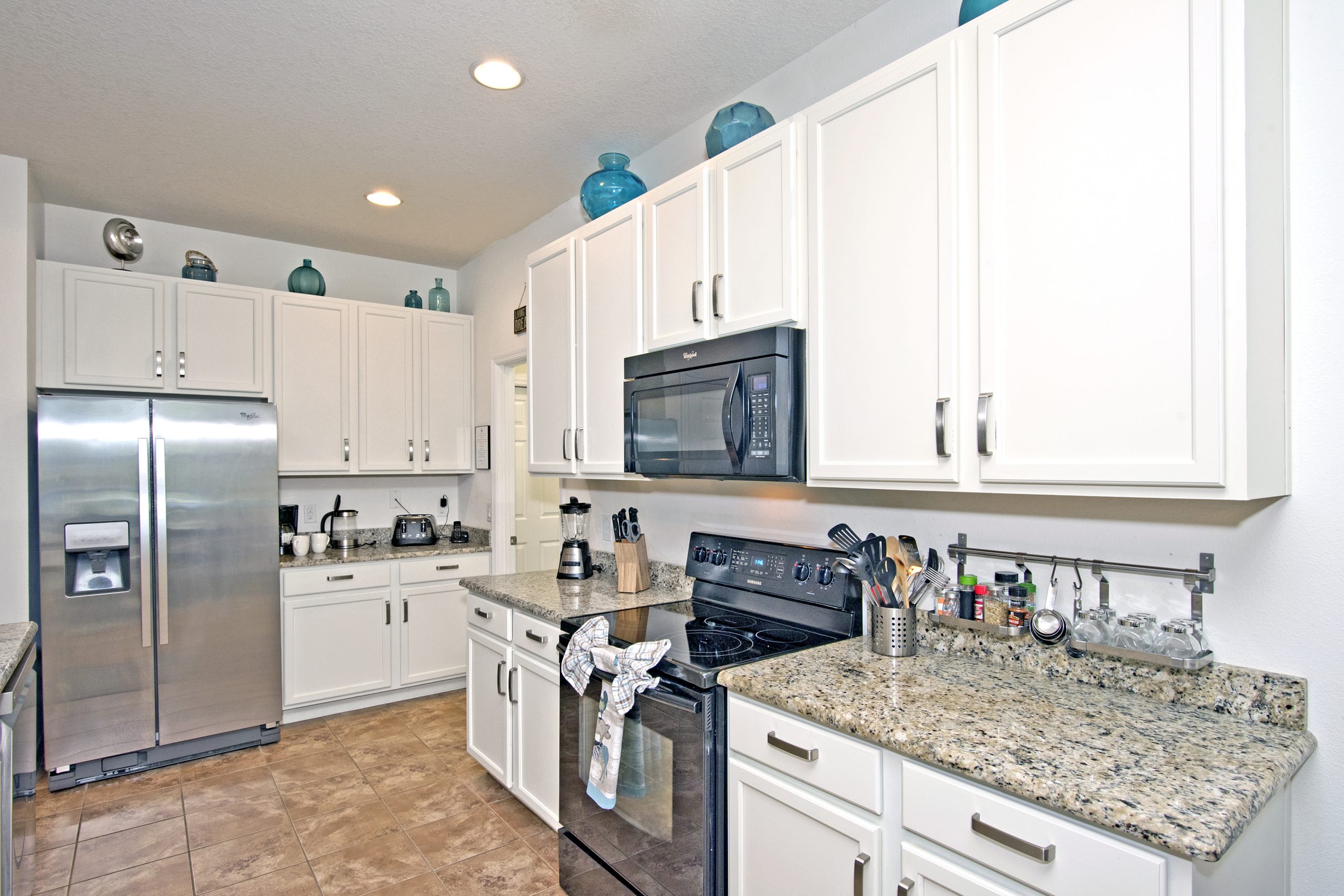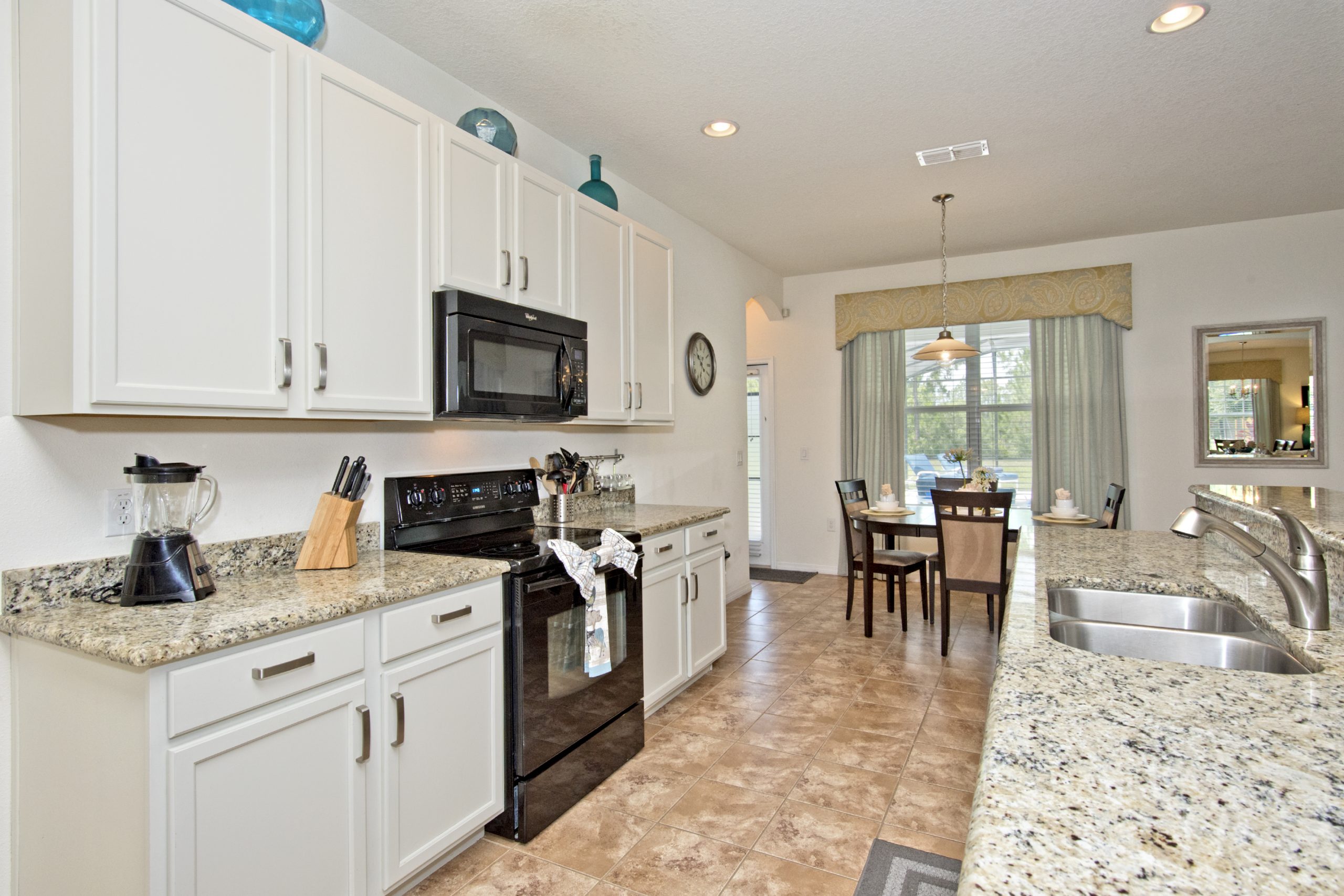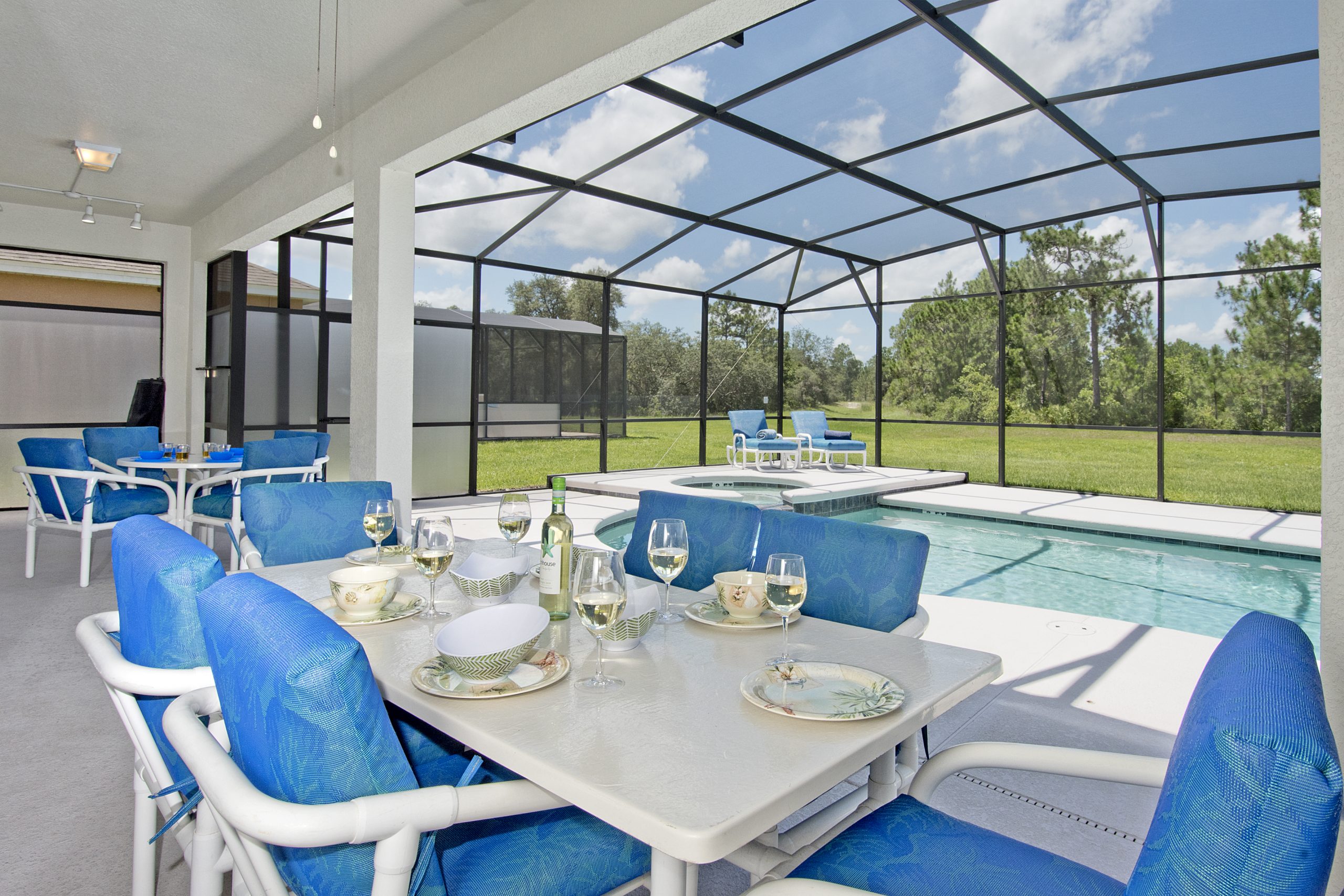 ABOUT THE VILLA
Our Orlando villa is set on a large plot in a lush and tranquil conservation area. There is an air of ambience to this gated community and, as soon as you enter, you know you are in a special place.
The home is surrounded with lakes, trees and wildlife and, with no rear neighbours, you can soak up uninterrupted views from the extended deck area of your own South-West facing private pool and spa.
You can use the large covered terrace for alfresco dining or if you simply need a little afternoon shade.
In the evening, watch the sun set over the Watersong horizon whilst enjoying some well-deserved refreshments after another busy day.
LIVING ACCOMODATION

On the ground floor, Watersong Sunset offers a formal dining area, a spacious open plan living area with a 55" wall mounted TV and a fully equipped kitchen with breakfast bar and an additional seating area.
A master bedroom suite is also located on the ground floor with king size bed and a large ensuite bathroom.
Just off the kitchen area is the utility room with full washing machine, dryer and ironing facilities.  To the left of the utility room is the games room with pool table, football table, seating area and more soon to be added.
Upstairs leads to a second family lounge area with a large sofa and 65" wall mounted TV, Xbox One X, Games, DVDs and books are all available for your enjoyment.
There are four further bedrooms; a second master suite with a queen size bed and ensuite bathroom.
Bedroom 3 has a queen size bed.  Bedroom 4 has twin beds and also a cot. Bedrooms 3 and 4 share the family bathroom.  Bedroom 5 is a twin bedded room with an ensuite bathroom.
All bedrooms have ceiling fans, in addition to aircon.
OUTDOOR LIVING
Enjoy all-day sunshine from the South-West facing pool and extended deck area. Not overlooked by other villas, guests can soak up the peaceful conservation and lake views.
Relax in the spa and appreciate pure tranquility after a busy day at the theme parks.
Our villa offers a large covered outdoor dining area, with plenty of seating for relaxing or al fresco dining.
An optional security screen is provided for families with young children for your peace of mind.
OTHER
Baby monitor, highchair and stroller are available for your use
All linen and towels are provided, including pool towels
Central air conditioning, WiFi and free local calls using the villa landline are included in the cost of your stay
Hair dryers/straighteners etc can be found in the bathrooms
Pool and spa heating is available at an additional cost for the cooler winter months
Security alarm and guest safe
Non-smoking property
No wheelchair access
No hen or stag parties
(Regrettably) no pets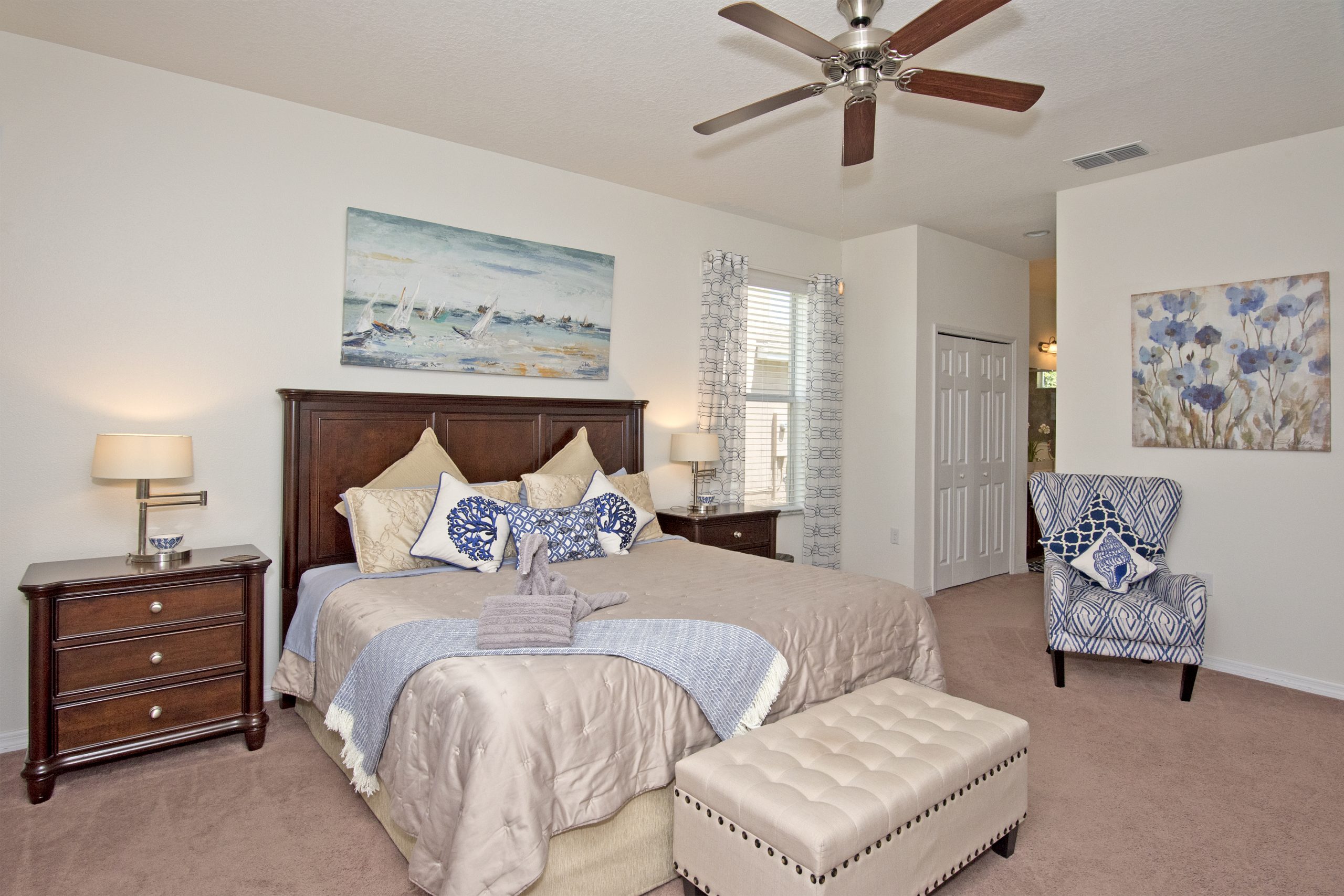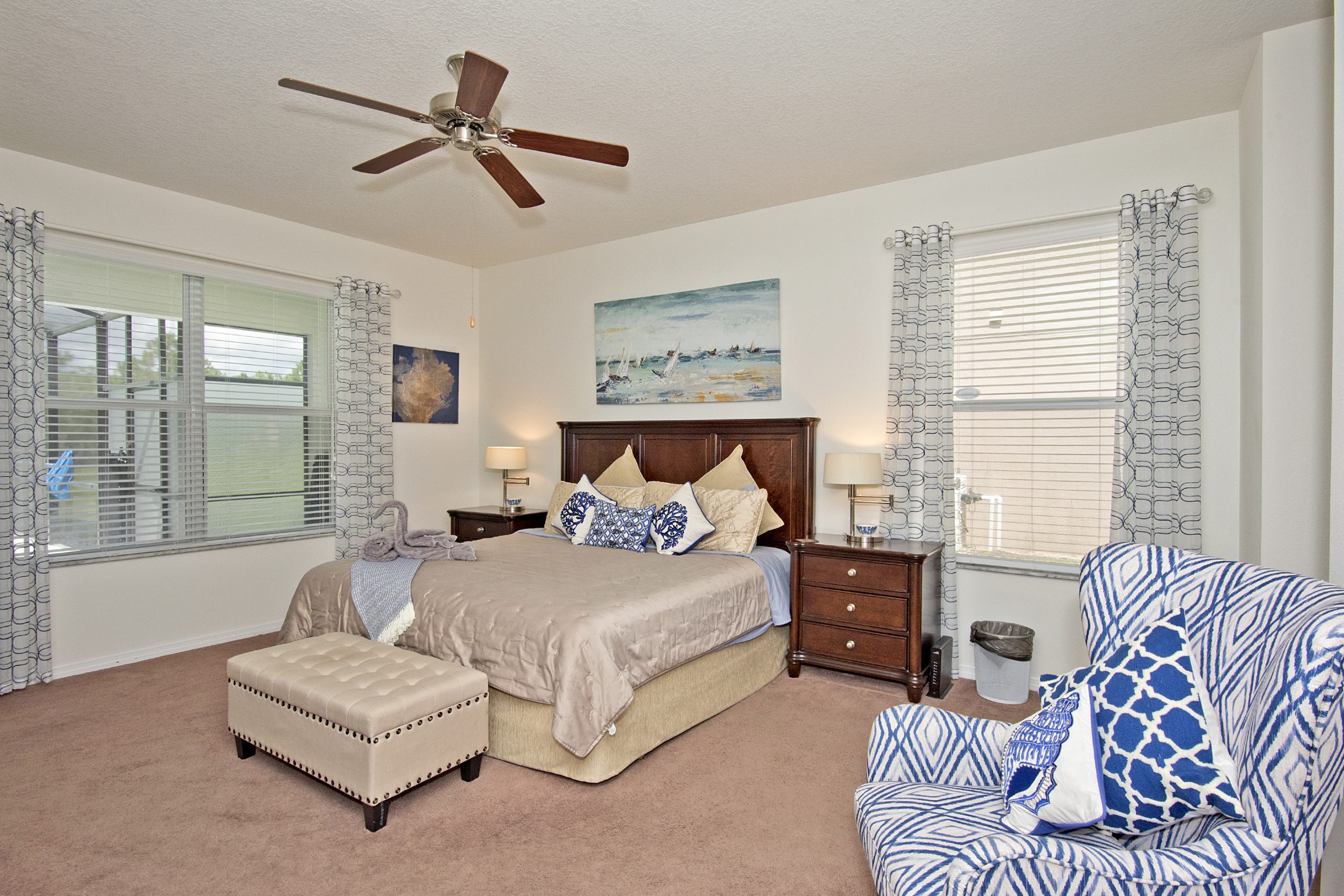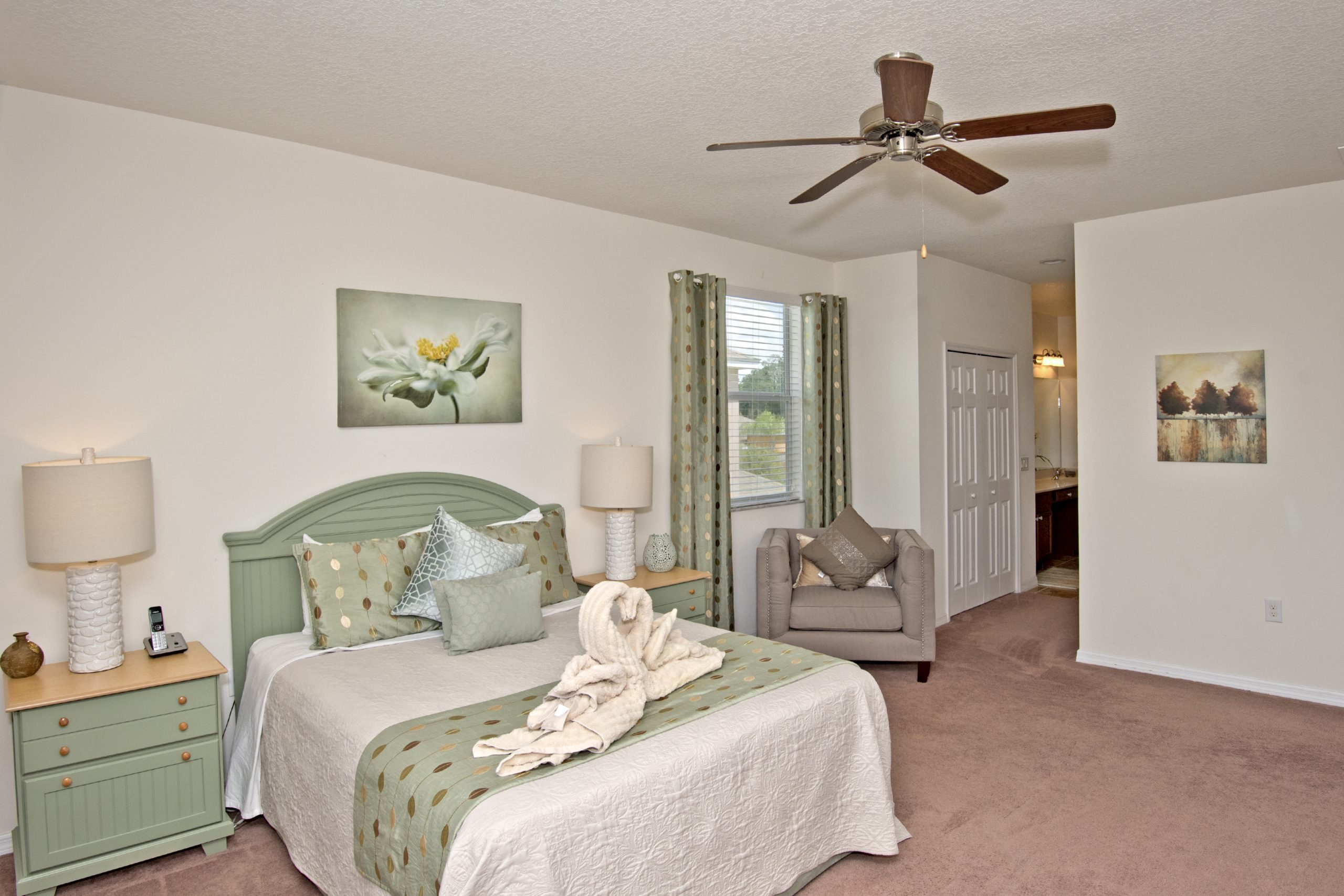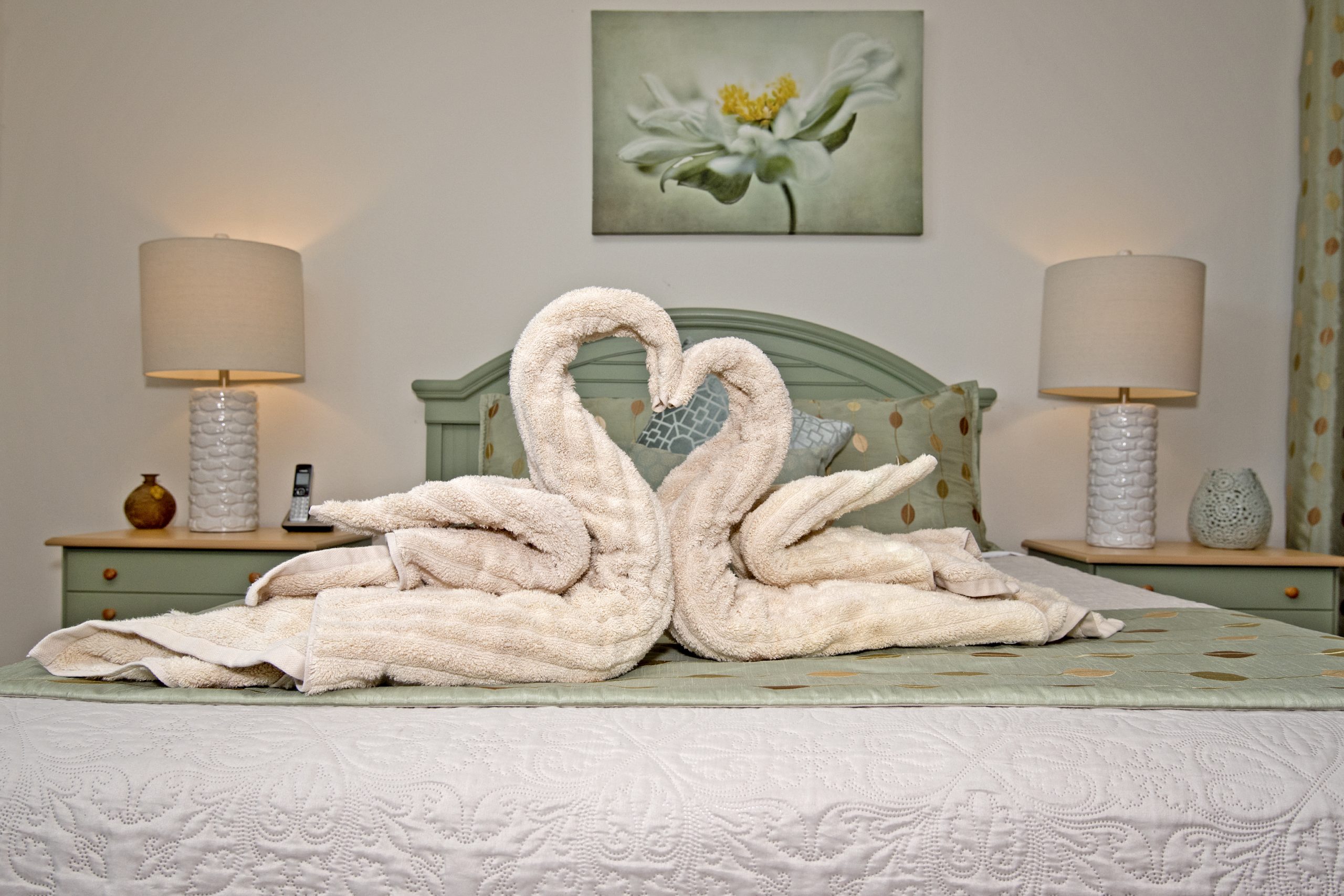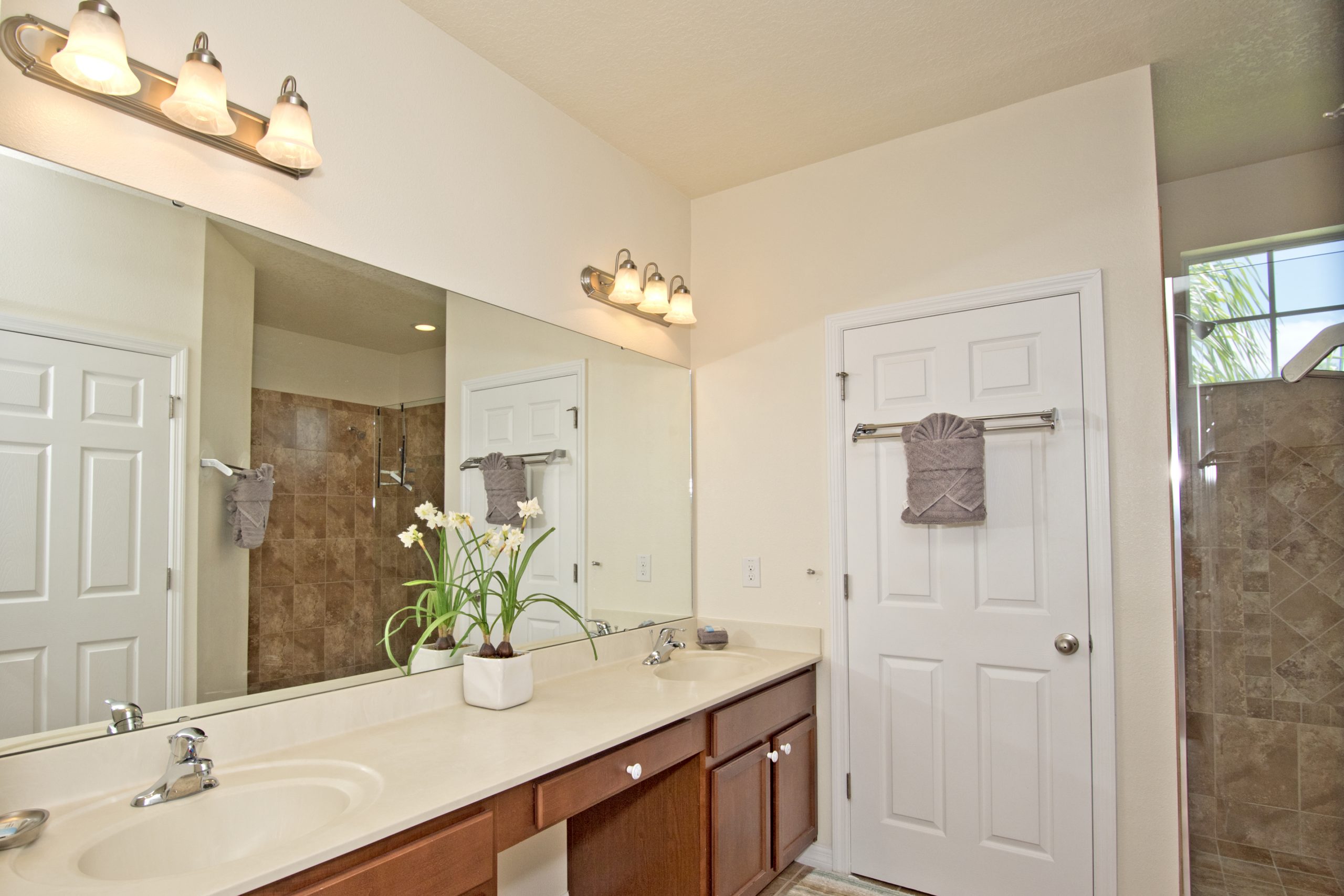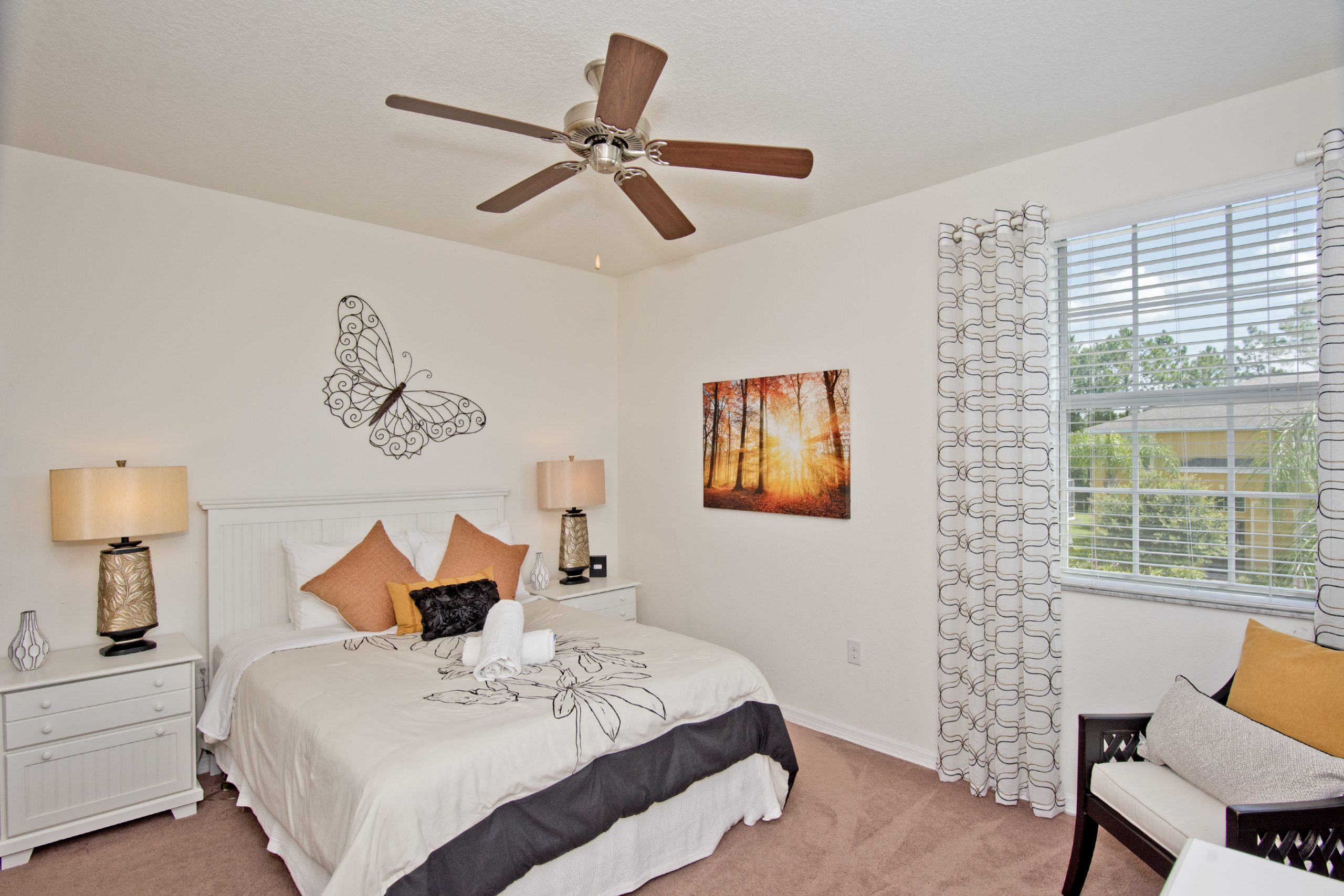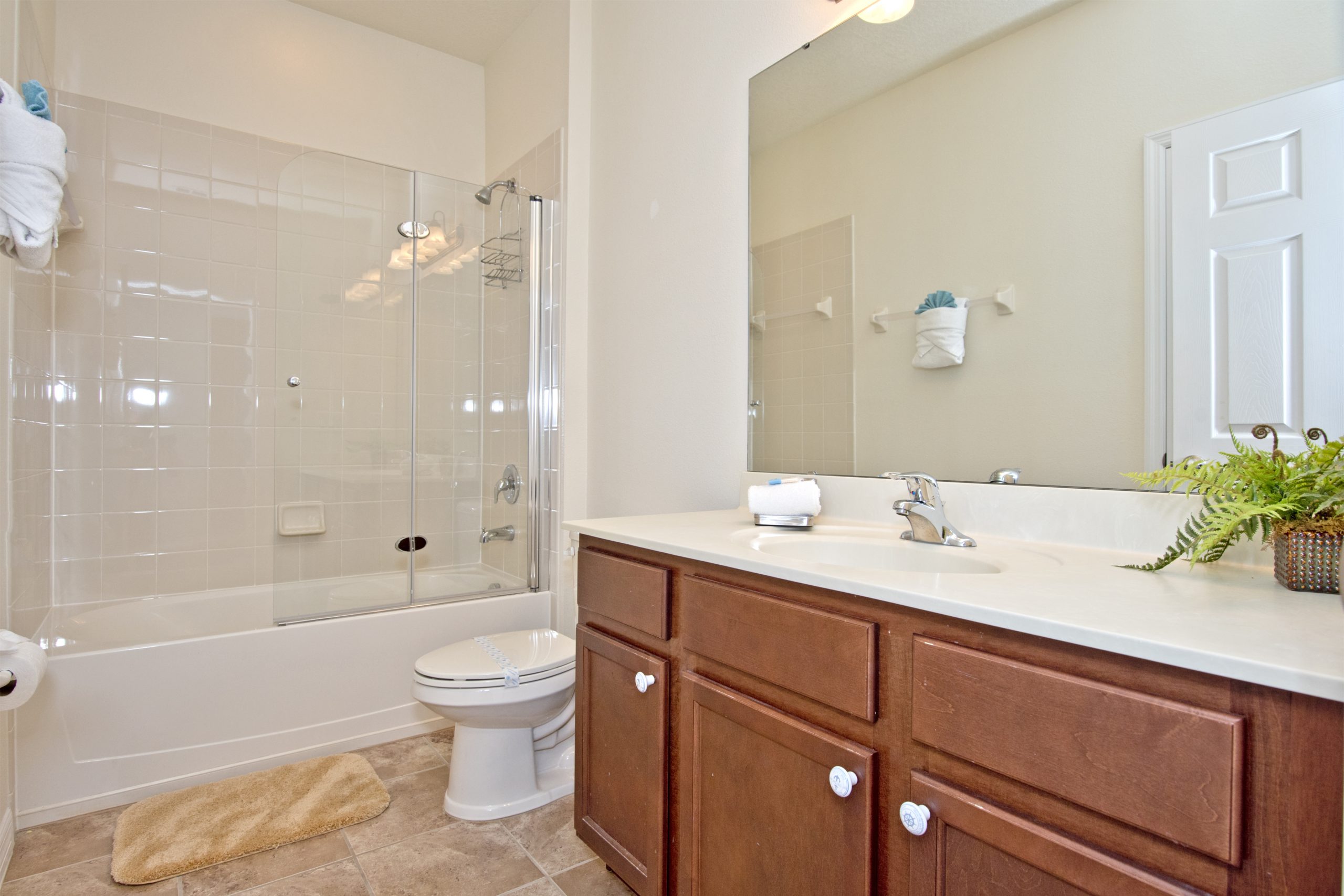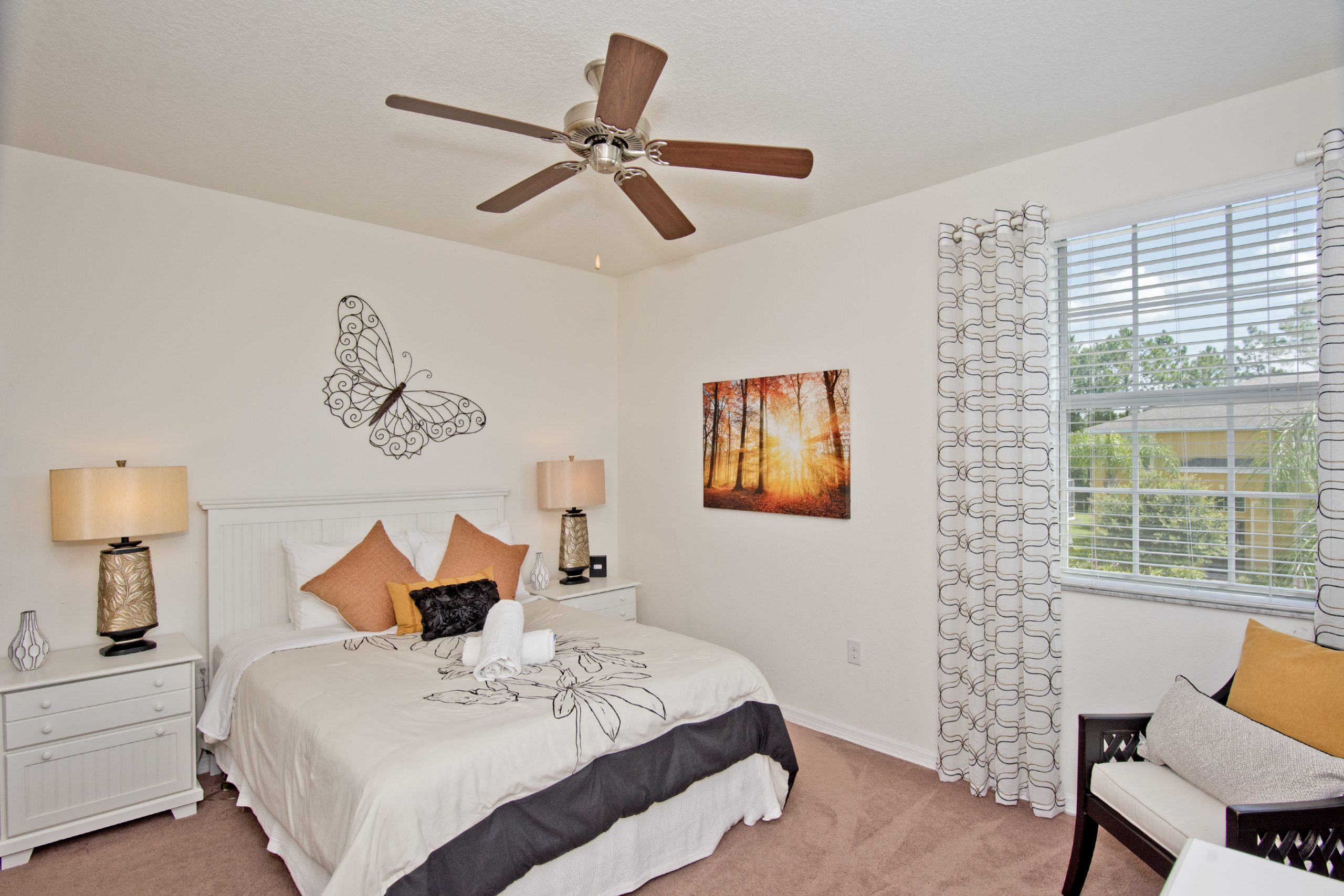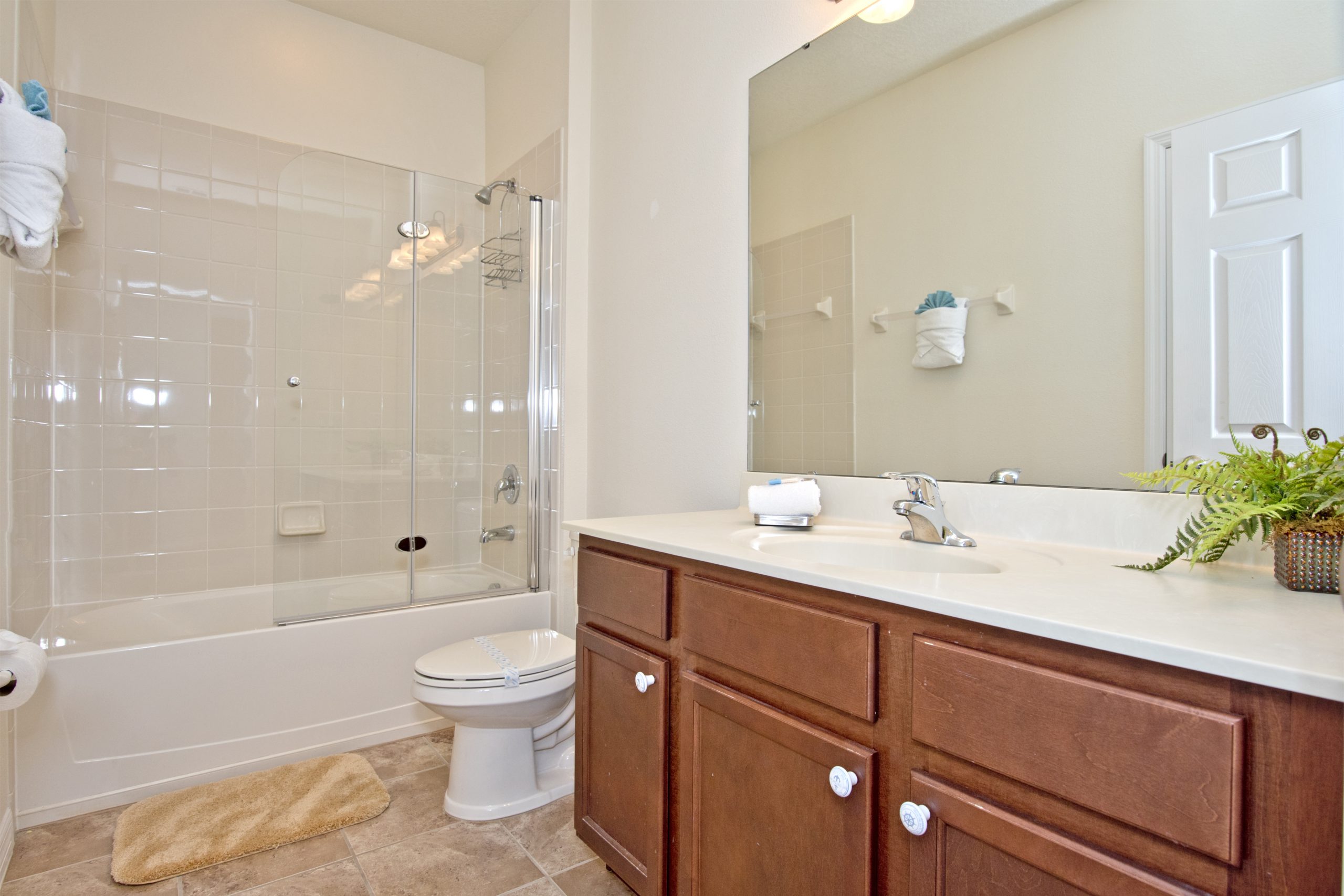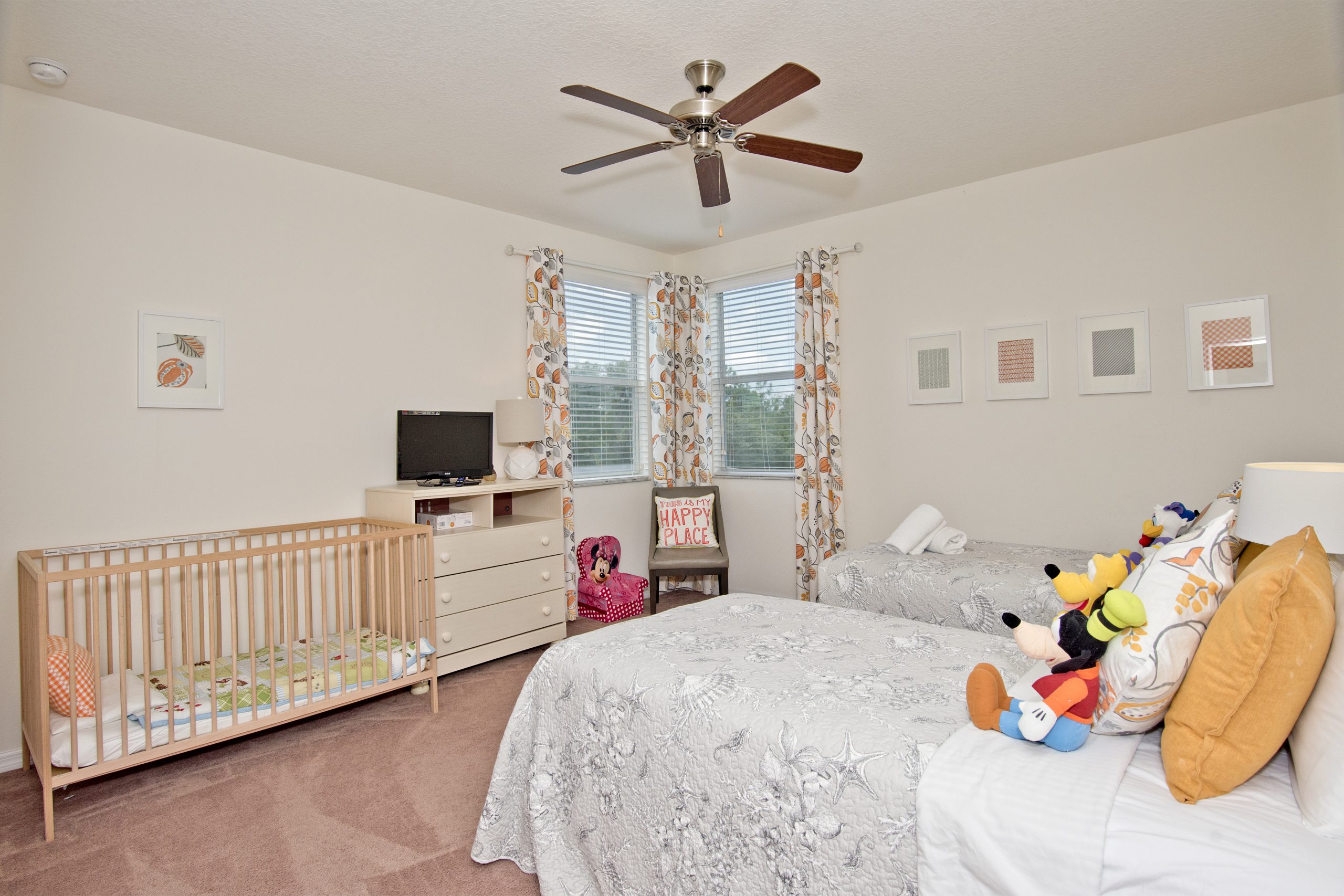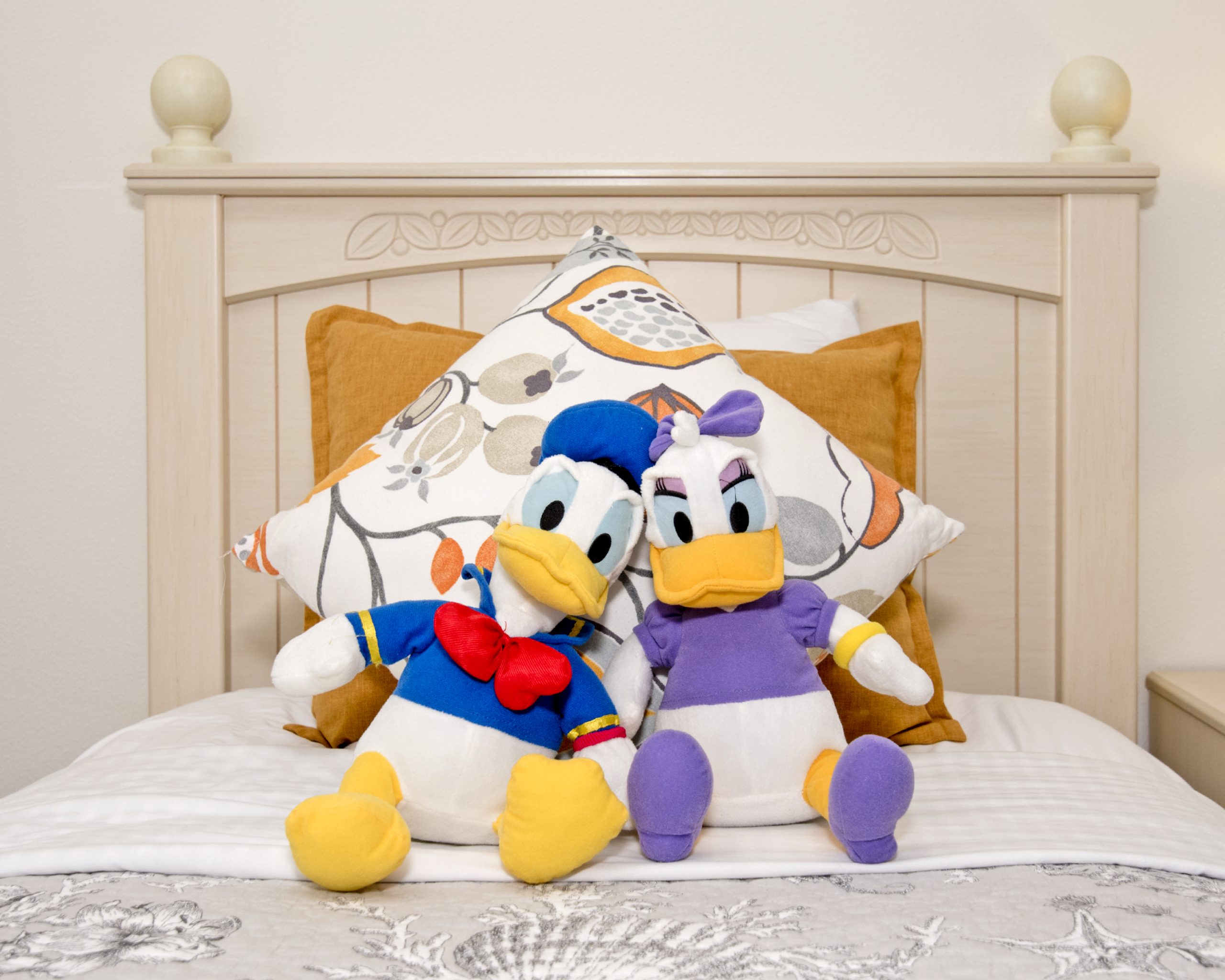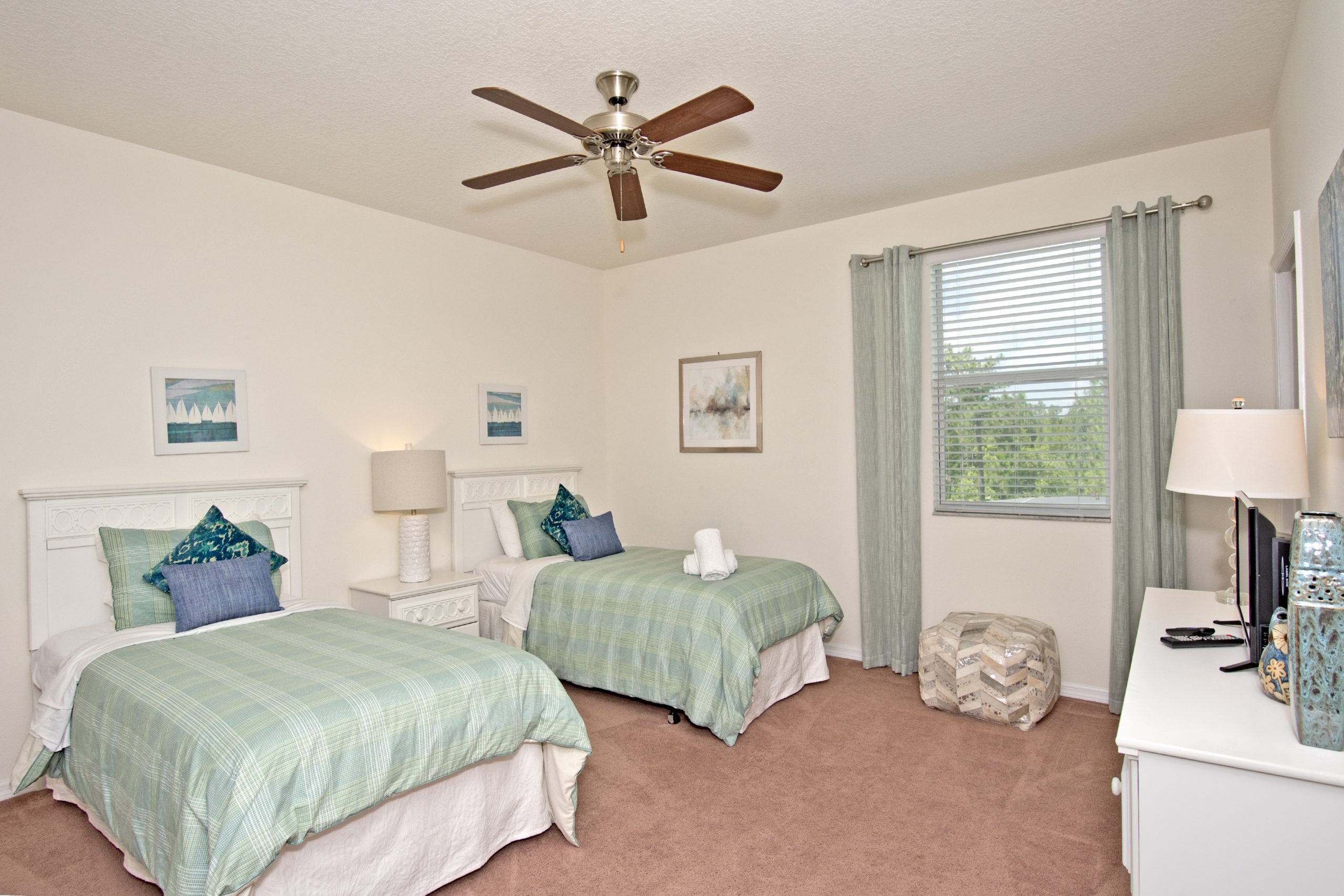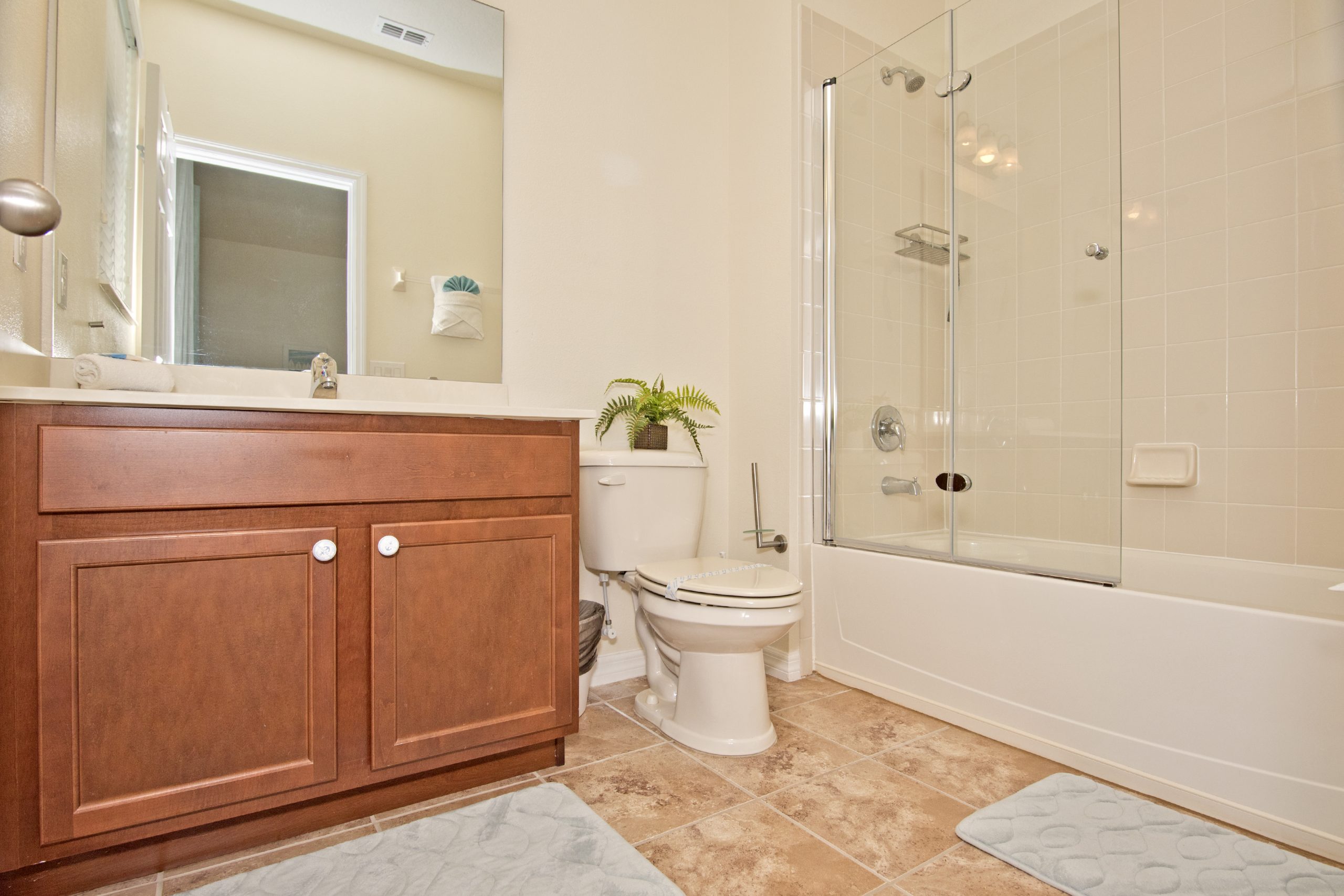 Kay & Peter
Telephone:
+44 (0)7545 778974
Low season

02/01/20 – 01/04/23 – £135.00 – 4 nights min

Spring Holiday

02/04/23 – 16/04/23 – £180.00 – 7 nights min

Mid season

17/04/23 – 30/06/23 – £150.00 – 4 nights min

Summer season

01/07/23 – 31/08/23 – £180.00 – 4 nights min

Mid season

01/09/23 – 31/10/23 – £150.00 – 4 nights min

Fall – Low season

01/11/23 – 20/11/23 – £135.00 – 4 nights min

Fall – Thanksgiving

21/11/23 – 26/11/23 – £180.00 – 4 nights min

Winter – Low season

27/11/23 – 14/12/23 – £135.00 – 4 nights min

Winter – Holiday

15/12/23 – 06/01/24 – £180.00 – 7 nights min

Additional Costs

Pricing includes all taxes and fees. For rates in US Dollars, please Contact Us

Pool heat/Spa – £25 per day

BBq – £50 per week

Licence Number: DWE6314566
Low season

03/01/21 – 27/03/21 – £120.00 – 4 nights min

Spring Holiday

28/03/21 – 11/04/21 – £160.00 – 7 nights min

Mid season

12/04/21 – 30/06/21 – £135.00 – 4 nights min

Summer season

01/07/21 – 31/08/21 – £160.00 – 4 nights min

Mid season

01/09/21 – 31/10/21 – £135.00 – 4 nights min

Fall – Low season

01/11/21 – 22/11/21 – £120.00 – 4 nights min

Fall – Thanksgiving

23/11/21 – 28/11/21 – £160.00 – 4 nights min

Winter – Low season

29/11/21 – 16/12/21 – £120.00 – 4 nights min

Winter – Holiday

17/12/21 – 02/01/22 – £160.00 – 7 nights min

Additional Costs

Pricing includes all taxes and fees. For rates in US Dollars, please Contact Us

Pool heat/Spa – £25 per day

BBq – £50 per week

Licence Number: DWE6314566
Low season

03/01/22 – 09/04/22 – £120.00 – 4 nights min

Spring Holiday

10/04/22 – 24/04/22 – £165.00 – 7 nights min

Mid season

25/04/22 – 30/06/22 – £140.00 – 4 nights min

Summer season

01/07/22 – 31/08/22 – £165.00 – 4 nights min

Mid season

01/09/22 – 31/10/22 – £140.00 – 4 nights min

Fall – Low season

01/11/22 – 21/11/22 – £125.00 – 4 nights min

Fall – Thanksgiving

22/11/22 – 27/11/22 – £165.00 – 4 nights min

Winter – Low season

28/11/22 – 15/12/22 – £125.00 – 4 nights min

Winter – Holiday

16/12/22 – 01/01/23 – £165.00 – 7 nights min

Additional Costs

Pricing includes all taxes and fees. For rates in US Dollars, please Contact Us

Pool heat/Spa – £25 per day

BBq – £50 per week

Licence Number: DWE6314566